Apples
The most important "wealth" of apples is food fibers, fiber. Regular use of them in food prevents constipation and helps to normalize the work of the gastrointestinal tract. Getting into the blood, molecules of dietary fibers help the body to remove cholesterol, which in turn is the prevention of the occurrence of diseases of the cardiovascular system. Pectins, contained in apples, bind slags, salts of heavy metals and also remove them from the body.
Kiwi
Exotic fruits in general are very useful, one of the most nutritious fruits, rich in antioxidant substances, vitamin E and lutein. The use of kiwi helps prevent problems of vision and cardiovascular system, fights the formation of blood clots.
Laim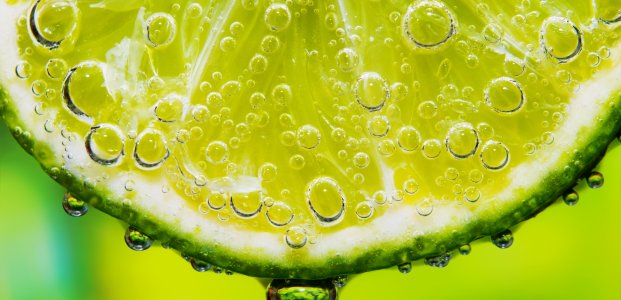 Lime contains a lot of vitamin C, also vitamins B, vitamin A, potassium, calcium, phosphorus, iron, thiamine, riboflavin, pectin.
Due to the content of ascorbic acid and potassium, lime is able to strengthen the walls of blood vessels.
Lime protects teeth from caries and harmful deposits, prevents bleeding gums, thanks to phosphorus and calcium.
Lime contains pectin, which helps to remove toxic substances from our body.
Essential oils of lime normalize the process of digestion and increase appetite.
Lyme is recommended for the prevention of heart disease and blood vessels.
In addition, lime is an excellent tranquilizer, it acts calmingly on the nervous system, raises the mood.
Brocolli
In this form cabbage contains 20% more anti-cancer substances than in other vegetables
Cherry juice
Cherry juice improves metabolic processes, strengthens the body, improves appetite. Folic acid and iron contained in cherry juice are useful for anemia, kakhetins and anthocyanins strengthen the walls of blood vessels. Cherry contains useful substances bioflavonoids, better known as vitamin P, which increases immunity and normalizes blood pressure. Vitamin P promotes wound healing, recovery from injuries. The peculiarity of cherry juice in its pronounced anti-inflammatory effect. The substances contained in it are effective in inflammation of the joints and act faster than the usual aspirin. Cherry is useful for the work of the heart, actively affects the blood and digestive processes in the body.